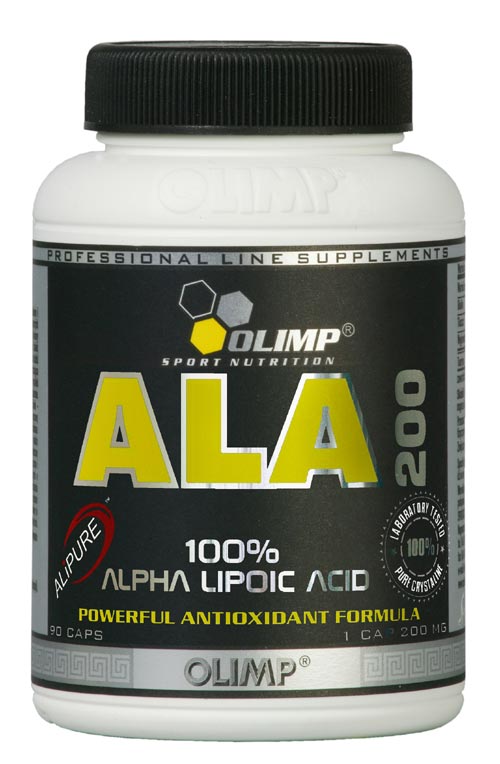 WITAMY SERDECZNIE
SZANOWNI FORUMOWICZE przedstawiamy kolejną nowość ,preparat oparty w 100% na najwyzszej jakości kwasie alfa liponowym -krystalicznym ALA o patentowej nazwie ALIPURE tm .
Jest to obecnie najczystsza postać kwasu liponowgo jaki jest dostepny na rynkach, producentem surowca jest Degussa,AG(SKW).
Na produkcję i używanie loga posiadamy oczywiście licencje od firmy Degussa.
1 kapsułka zawiera 200 mg ALA
Monohydrat kreatyny jest jednym z najlepszych suplementów anabolicznych, ale jedynie stosowany bezpośrednio po zakończeniu treningu. Podczas pracy mięśnie intensywnie spalają glukozę, a produkty tego spalania czynią błonę komórek mięśniowych, przepuszczalną dla niezbędnej do produkcji energii kreatyny.
We wszystkich innych sytuacjach kreatynę do mięśni może wprowadzić jedynie hormon anaboliczny - insulina. Z tej właśnie przyczyny, dla poprawy efektywności wspomagania kreatynowego, proponowane są różne techniki suplementacji, zestawiające kreatynę z substancjami, aktywizującymi insulinę. Jedna z nich polega np. na przyjmowaniu kreatyny łącznie z wysokimi porcjami glukozy (dekstrozy). Nie jest to jednak najtrafniejsze rozwiązanie, bowiem po pewnym czasie wysokie dawki glukozy zamiast poprawiać, upośledzają aktywność insuliny. Druga polega na zestawianiu kreatyny ze związkami organicznej siarki (np. tauryną), które znacznie silniej od glukozy aktywizują insulinę, a po dłuższym okresie stosowania nie tylko nie upośledzają aktywności tego hormonu, ale wyraźnie ją poprawiają.
Niedawno ustalono, że najcenniejszym dla transportu kreatyny, naturalnym związkiem siarkowym jest kwas alfa liponowy ALA. Najcenniejszym, bo oddziałującym jednocześnie na oba mechanizmy, transportujące kreatynę do komórek mięśniowych - aktywność insuliny i spalanie glukozy.
OLIMP ALA 200-ALIPURE TM -GWARANCJA NAJWYŻSZEJ JAKOŚCI ALA
Produkt do sprzedaży trafi pod koniec tego tygodnia,o cenach wkrótce poinformujemy
Pozdrawiamy
TEAM OLIMP