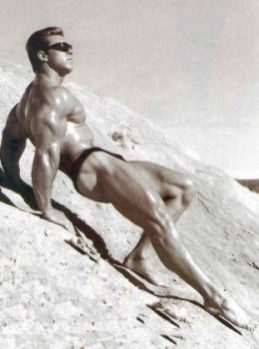 Nie pisać, zanim nie skończę!
About LARRY
Nickname: The Legend
Born: October 12, 1938
Birthplace: Blackfood, Idaho, USA
Residence: Salt Lake, Utah, USA
Height: 5' 7"
Weight: 205 lbs
Titles Won
1960 - AAU Mr. California
1960 - AAU Mr. California (Most Moscular)
1962 - IFBB Mr. America
1963 - IFBB Mr. Universe (Medium)
1964 - IFBB Mr. Universe
1965 - IFBB Mr. Olympia
1966 - IFBB Mr. Olympia
About Larry
Larry Scott, The Legend, established and personified bodybuildings beach Adonis image, and duly became the sports Golden Boy after winning the IFBB Mr. America title in 1962 and the IFBB Mr. Universe in 1964. He was the first-ever IFBB Mr. Olympia in the contests initial two years of life, 1965 and 1966.
Joe Weiders brainchild of a competition got the perfect first-time winner in Larry. Of all the Hall of Fame inductees, perhaps Scott started with the least raw potential.
Told he was too narrow-shouldered a condition then considered insurmountable he persevered and packed on prodigious mounds of delt muscle which, coupled with the greatest arms in bodybuilding, enabled him to present front double-biceps shots that worked up a crowd like no other.
Witnesses still say that the audience reaction to his 1966 IFBB Mr. Olympia entrance was the most vociferous and emotional ever seen at a bodybuilding contest. A devout Mormon, Larry lives in Salt Lake City, where he runs his own bodybuilding advisory company.
Nie pisać, zanim nie skończę!
Zmieniony przez - 50 Dollars w dniu 2007-04-06 17:43:58